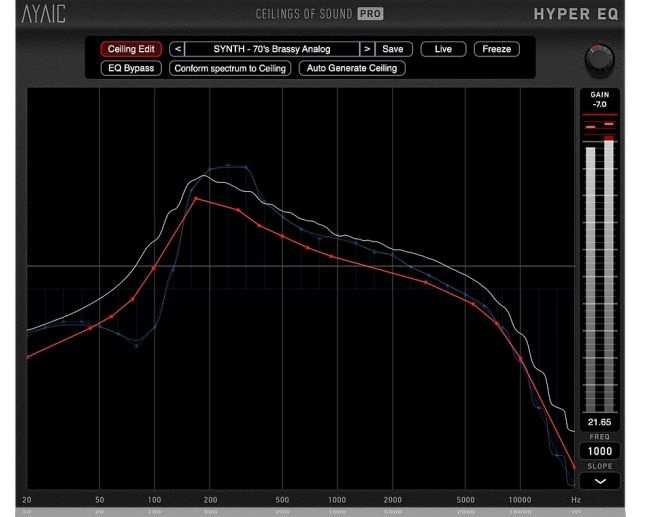 Ceilings Of Sound PRO v0.5.3 WiN
Team RET | 2021-07-21 | 5.87 MB
PLATFORM: VST2/VST3/AAX/x64
Ceilings Of Sound PRO takes a truly unique approach to equalizing sound and is the first equalizer to incorporate the spectrum of noise as equalization "knobs". 15 user-definable ceiling bands containing 49 noise-slopes each allow you to create sonic-ceiling shapes that drive the settings of a 50/31-band Linear Graphic Equalizer. The EQs operate at 0 latency, low CPU load yet are hi-precision, even at the low frequencies where it really matters. A "conform spectrum to ceiling" feature conforms your EQ to your ceiling shape with a click of a button. 49 ceiling guides help you balance your ceiling shapes to equalize faster and better than ever. This means whether you're working with one of our hundreds of presets, one of your own created presets or simply manipulating the ceiling shape of your raw audio during mix-down/mastering, perfect equalization is a "click" away. We are certain that once you beginning using Ceilings Of Sound PRO you'll quickly discover why it's called a Hyper-EQ.
FEATURES:
Whether you are a producer, mix/mastering engineer, musician or singer/songwriter, Ceilings Of Sound PRO has got you covered with more than 700 presets to breathe new life into your recording, mixing and mastering projects.
* 15 user-definable ceiling bands with 49 noise-slopes each.
* Click-n-drag ergonomics.
* "Auto generate ceiling" function for quick & easy ceiling creation.
* Switchable 50-band/31-band Linear Graphic EQ with 0 latency, lo-CPU, hi-precision.
* "Conform spectrum to ceiling" feature that instantly adheres the equalizer to the ceiling shape.
* 49 Ceiling Guides
* Equalizer is fully automatable using your DAW.
* "Live" function with spectrum smoothing and analyzer average options.
* Metering with infinite hold and click-reset.
* Optimized for multiple instances.
INFO/DEMO/BUY: https://mage.si/5yc0a
Ceilings Of Sound PRO v0.5.3 WiN-RET
https://beelink.in/47437/Ceilings-Of-Sound-PRO-v0.5.3-WiN-RET/