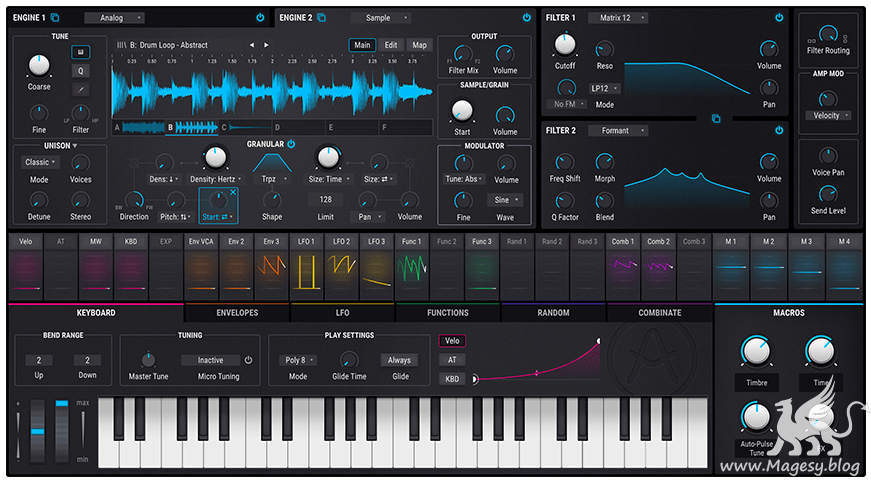 Pigments v3.1.0 WiN x64
Team V.R | 26 July 2021 | 2.16 GB
(Win64; AAX, VST3, VSTi, STANDALONE)
Pigments, a hybrid "polychrome" instrument that features hugely powerful, cutting-edge wavetable synthesis alongside award-winning virtual analog technology. After spending 20 years analyzing and emulating the best synthesizers ever made, they have now used their expertise to create an original, uniquely software synthesizer. Pigments offers exceptional sound thanks to its hugely powerful architecture and lightning-fast workflow that makes complex modulations easy, fast, and fun.
Pigments has some colorful tricks up its sleeve. In fact, it can do things other synthesizers simply cannot do. These include:
•Scale quantized pitch modulations to build complex melodic sequences.
•Continuous unison controls that can be modulated, with classic and chord modes.
•Extensive waveshaping options for the wavetable oscillator, with great aliasing control.
•The usual modulation sources and some more unconventional ones like the Turing and Binary random generators.
•Powerful gate/retrig handling for modulators. Perfect to inspire unusual rhythmic sequences or self-generating patches.
•Polyrhythmic sequencer with a strong emphasis on randomness, with scale control to remain musical.
At a glance, here are its key features:
•Two engines in parallel: the best of both worlds
•Virtual Analog triple oscillator engine.
•Complex Wavetable engine with morphing and import.
•Twin filters: dozens to choose from
•Classic filters from V Collection instruments.
•Modern filters like surgeon and comb.
•Continuous series/parallel routing.
•Powerful effects section: an all-in-one solution
•13 stunning effects, including wavefolder, overdrive, parametric EQ, and delay.
•Insert or Send routing options with drag and drop for easy switching.
•All the essential parameters can be modulated.
•Advanced modulation system: modulate anything with anything
•Graphical editing, source-based or destination-based.
•Envelopes, LFOs, Function generators, Random sources.
•4 assignable Macros to control multiple parameters at once.
•Visual interface: understand your sound
•Graphical representation of the most important modules.
•Living, moving waveform to see your sound come alive.
•Polyrhythmic Sequencer and Arpeggiator: get creative
•Create complex, custom and evolving sequences or arps.
•Extensive factory preset library: learn from the masters
•Hundreds of presets from awesome artists and experienced sound designers, including Jeremy Savage, Starcadian, Cubic Spline, Mord Fustang, and Jörg Hüttner.
•Highlighted "notes" to show which parameters are recommended to tweak.
v3.1.0:
New features:
•Macro workflow improvement, indlucing a new look, Learn button & easier mapping format
•MIDI workflow improvements, including Learn on/off and access to more detailed MIDI parameters
•All tutorials in V Collection 8 instrument have now been updated in our new format
•All instruments in V Collection 8 are now NKS compatible
•New 128 preset sound bank for VC8.1 exploring new sound territories
Bug fixes:
•Allowed access to the three tuning options "Relative", "Absolute", "Hertz" in the modulator during the tutorial
•Sustain pedal action now works in low buffer sizes
•Allow saving a preset with space after the word
•Controller template namings are now consistent across all VC instruments
•Preset comments now remain, when presets are added to a playlist
rev.2 – the Microsoft C++ runtime redist updated to v14.29.30040, 'koz the previous version 14.29.30037 turned out buggy
INFO/DEMO/BUY: http://mage.si/7syV
Pigments v3.1.0 WiN CE REV.2 -V.R
http://beelink.in/38196/Pigments-v3.1.0-WiN-REV.2-V.R/