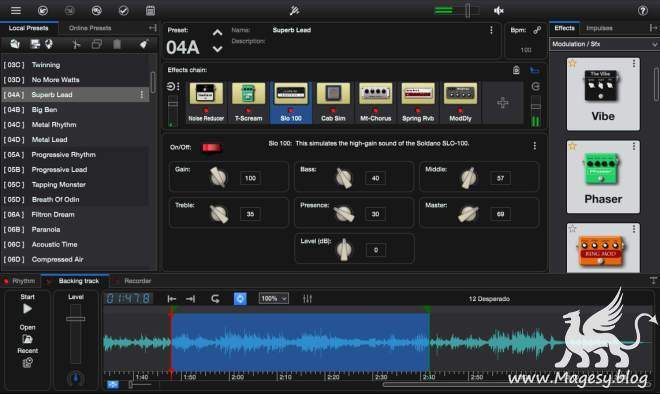 ToneLib GFX v3.9.4 x64 WiN
P2P/MG | March 13 2020 | 29 MB
STANDALONE, VST, VST3, x64
ToneLib GFX is a collection of guitar amps, speaker cabinets and effects implemented in software for use with your computer, Windows PC, Mac or Linux. The software comes as a standalone application and as plug-ins for use with the most popular DAW (digital audio workstation) recording software.
ToneLib GFX Standalone Application and plug-ins
The plug-in and standalone versions offer the same function and sound, but the standalone version also offers a rhythm and backing track player, plus a built-in recorder so you can capture your ideas at the moment of inspiration. Both the standalone and plug-in versions are included when you install ToneLib GFX. Simply connect your guitar to your computer using an audio interface, and your computer is transformed into a powerful amp, effects and recording studio!
ToneLifb GFX features:
– Effects include 18 thunderously accurate amps, multiple overdrive, distortion, fuzz, compression and phaser pedals, plus clean boost, delay, reverb, acoustic simulation, wah, EQ, octaver, tremolo, vibrato, chorus, and flanger.
– All ToneLib GFX gear is precision-modeled based on actual circuit diagrams of highly-sought-after, real-world products.
– The oversampling is auto-adjusted to your session's sample rate to save valuable CPU power while providing the most transparent sound possible.
– Drag-and-drop to add or rearrange effects, or use keyboard shortcuts, with Undo/Redo support.
– The entire ToneLib GFX chain can be easily saved, organized and recalled through the advanced built-in preset browser.
– Remotely control ToneLib GFX via MIDI controller.
– Tune using a high-precision tuner.
– Keep time with a flexible metronome and rhythm player.
– Jam along with backing tracks and practice at your pace by adjusting the tempo without affecting pitch.
– When used in standalone mode, ToneLib GFX features a built-in recorder that makes recording ideas and songs a breeze.
INFO/DEMO/BUY: https://mage.si/440L
ToneLib GFX v3.9.4 STANDALONE VST VST3 x64 WiN
https://thuglink.com/get/oI0wbMPTsW